Heidal is world famous for it's whitewater rafting and kayaking on the Sjoa River – but it's hiking and biking is also on another level! 
Jotunheimen? Dovrefjell, Besseggen, Galdhøpiggen – do any of these names ring a bell? Yes indeed they do, as they are the names of the last giant strong holds. Located in the far reaches of the frozen north, where fairy tales hold true, and fiction blurs a fine line between reality. And you are about to embark on a quest like no other, hiking and biking in Heidal, Sjoa and beyond! So strap on your Viking helmet, as there are trolls to slay and mountains to conquer! 
Experience these magical places yourself by learning about my top 5 bike and hikes in the Oppland area. Oppland is a vast municipality that encompasses all of these hikes, and is home of the mighty and beautiful Sjoa River. Oppland is also the home of the famous Gudbrandsdalen Valley; an area stepped in history and culture.
The reason I had the opportunity to explore these epic places, is that we run a kayaking /rafting  centre in the Heidal valley. Our base is located right beside the Sjoa Playrun section. The Sjoa River is one of the worlds most famous kayaking a rafting destinations. Mad Goats offers whitewater kayaking courses and tours in Sjoa and also offers glamping, sauna and hot tubs.Mad Goats Sjoa is a pretty magical place!
Without further ado
 – my hiking and biking tips in Heidal! 
I will briefly explain each hiking and biking adventure, and how to get there. I recommend downloading the free app "Norge Kart" which is a great tool for finding your way on hikes all over Norway. On the app you can download the sections you desire, measure distances between points, and see gradients…Sometimes best not known in this mountainous country! The reception is also pretty good around Heidal, so Google maps should work. Just remember to be respectful of peoples property's and make sure you don't park in their driveways. I am trying to maintain a good reputation in Heidal – you how how small towns can be like!
Norway has the wonderful "Allemans Rett", which means you can camp anywhere for up to two nights, as long as it's at least 150m away from private property. Please respect this amazing law so it exists into perpetuity! That means leaving no trace. Don't litter, don't shit & leave your toilet paper strewn around. Just respect peoples privacy and the natural environment – common sense, right!? Hiking and biking in Heidal is a world class activity, so let's keep the locals happy so all can enjoy. Lastly, and to make things easy, I will make the start location for all hike and bikes from Mad Goats Sjoa in Heidal. 
1. Bike to Åmot Bridge (see location)
If you only have an hour or so (maybe a nice morning or evening activity) then we recommend this short bike ride to the incredibly beautiful wooden Åmot bridge in Heidal. This bridge crosses the Sjoa River at its final section (The Åmot Gorge) before it runs into the Gudbrandsdalslågen – the river that runs all the way down the Gudbrandsdalen Valley, and out into the Mjøsa (Norways largest lake) at Lillehammer. Once you get to the bridge, you can hangout and just soak in the views or take a quick hike along the wooden riverside path. This trip takes approx. 1 hour there and back from Mad Goats Sjoa. Chuuuuuuuuur, enjoy!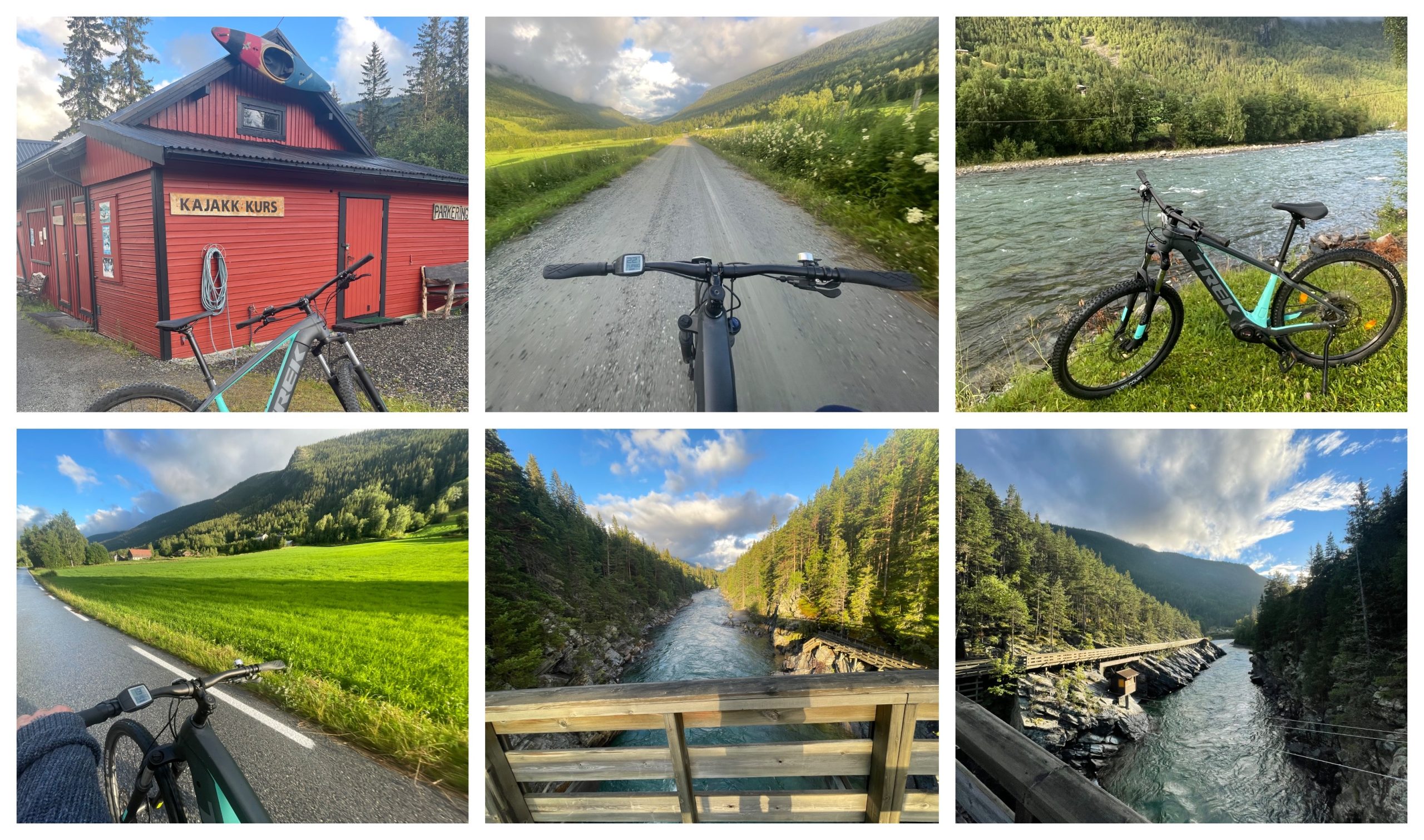 2. Bike and hike to Goat Mountain (see location)
I was pretty blown away when searching for peaks around Mad Goats Sjoa because I came across a nearby mountain called "Geitfjellet", which translates to Goat Mountain! I almost got the feeling that this was meant to be, like it was my destiny to buy the Sjoa Kajakksenter. So, hiking to the top of this Goaty Fjell felt like completing a magical quest that meant be! Because after all, the only meaning to life is the meaning you prescribe to it. And as goats, we choose to live a very purposeful and meaningful life! Maaeeeeeh.
So, to get to Goat Mountain, you can either bike or drive up and park here. You will be able to see Rondane National Park, Ronåsån (Eagles Nest), and Heidalsmuen from here! Don't do this hike if there is a lighting storm on the way, as there ain't many trees to hide behind at the top! Enjoy this amazing bike and/or hike!
FYI, the hike takes about 1 hour there and back, from the walking starting point. If you choose to bike, then the whole trip will take about 4 hours, unless you are in a hurry, then you could probably make it in 3 hours. The drive up there takes about 15-20min, electric bike ride about 30 minutes. 
3. Drive and hike to Heidalsmuen (see location)
Heidalsmuen, you could say, is the king of all the mountains in the Heidal area. You can bike to the start point, which I have done, but it is a fair distance so I would recommend saving your energy.  The walking start point is here.  
When I did this hike, I totally underestimated the time it would take, and the distance I would have to travel. Not to mention the gradient I would have to climb! Because of this past experience, I recommend taking water, warm clothing (even in summer), food and sun screen so you can protect your beautiful complexion! This hike is absolutely spectacular and is totally worth the effort, as you will get a 360-degree mountain top view. I also encountered numerous reindeer, which at the time I thought were wild but later I was told they are semi-domesticated – still cool! And yes, they were friendly, like probably the friendliest deer I have ever met, so long as you give them a smile and a wave.
Reserve a full day for this incredible adventure! And make sure to pop into Mad Goats Sjoa afterwards for a restorative cup of tea, and a sauna to sooth your weary muscles. 
4. Drive and hike to Brudesløret in the Rondane National Park (see location)
Now we are talking scenery on a different level – and also kayaking if you are that way inclined! The Rondane National Park is probably one of the most famous hiking areas in Norway, but don't worry it is huge and there is enough room for all! From Mad Goats Sjoa it about a 45 minute drive to the parking area, which is here. What I usually do is hike from this point along the river, exploring the rapids and waterfalls as I go, until I come to the majestic "Brides Veil Falls" (Bruddeslorret). Funnily enough, I was the 7th person in the world to kayak off this beast 10 or so years ago…I was either not in my right mind or my brain was't properly developed – probably both. I'll put the photo and video evidence at the end of this blog because if you ain't got evidence it didn't happen!
A few tips when you are on this hike: be careful not to walk too close to the cliffs, and make sure to stay on the walking tracks if using NorgesKart…I took my girlfriends parents on quite the little river crossing adventure when I mistakenly followed a skiing track – whoooooooops! Enjoy this amazing hike and if you like the look of the rapids, then you know who to call if you want learn how to paddle them! Maaaeeh! 
5. Bike and hike to the hang-gilding launch-pad & walk to Ronåsån AKA Eagles Nest! (see location)
This little mission gives a unique view out onto the Heidal Valley. I have attacked this hike from different angles, but have decided this route to be the easiest. Meaning the least time consuming and requiring the least bush-bashing. Who likes bashing bush anyway!?
From Mad Goats Sjoa it is about a 30 minute electric bike ride. Make sure you turn off the main road and head up the mountain here. Go ahead and stop at the hang-gliding launch pad (here) on your way to the top. First time, I attempted this hike, I took the wrong turn at the top. Thankfully a kind mushroom picking local pointed me in the right direction. So, here is the walking start point and the car park if you decide to drive. Follow the track and reach the awe-inspiring Engles Nest, a huge cliff face that gives you a stunning view down and out over the Heidal Valley. I would give yourself about 5 hours to complete this adventure – probably possible in 4 hours if you are a fit and zesty goat! 
Avoid the crowds and experience timeless landscapes and ancient energy
When I started my journey in Sjoa 10 years back my vision was narrowly pointed towards the Sjoa River. Now, when I come back years later, I see Sjoa and the Heidal area as so much more! And hence why I felt compelled to share my favourite hike and bikes with you! This place is an ancient and pristine natural wonderland, that has not been hyped up on a global level. Unfortunately, places like Lofoten, Trolltunga, Pulpit Rock, and Besseggen have been. These places are beautiful, but all together too crowded by buzzing drones, clicking cameras, humans and the like.
On these hikes, however, you see only mountains for as far as the eye can see. It can be so quiet that you can only hear the rustle of the leaves in the wind, the chirping of birds and tricle of water. You can feel so small and alone in this vast and majestic landscape, that you get both a sense of joy, connectedness…But also a sense of eeriness, a feeling of ancient timelessness that almost seems to be watching you…Maybe trolls do exist after all. 
As promised, here's the link to Tomas kayaking the beast of a waterfall:
Thanks for reading and very much hope you are inspired to come check out this spectacular place. You can spend a week in Heidal hiking, biking, paddling and sauna/ice bathing, and you still won't want to leave! Mad Goats Sjoa is open from June to August. It is a short but wonderful and busy summer season here. So quick tip: book and plan your holiday activities early. 
PS, here are 4 other activities you should try while you are visiting Sjoa.
– Catch you on the water! 
Written by Tomas Hansson, CEO and Founder of Mad Goats