Estimated reading time: 9 minutes
This is a short blog post about 4 of the best whitewater kayaking rivers in Norway. I will include the style of river, accessibility, flows, difficulty and some other stuff. These four rivers are the best whitewater kayaking rivers in Norway. You have to visit them. At the end of the post, I will add links to an absolutely awesome book that will show you how to get to the rivers, good flows, etc.  I will also leave a link to a new flow site, which Arne Lyshol created this year – thanks, Arne! It is the best Norwegian flow site in my humble opinion. Lastly, I will leave the name of a flow app that you can download on your cellular device – shaka! Let's get straight to it then, shall we?!
First off, if you didn't already know, Norway is an amazing kayaking destination. The terrain has been shaped in a way that has created the perfect natural water slides, also known as a river.
Sjoa River – The Asangjuvet, Sjoa Normal and Amot Sections
The Sjoa River has many different sections, and this makes it a river suitable for all levels. It also runs through a spectacular valley covered in lush forest, so the view ain't all that bad.
Because this river is a lake-fed – meaning it comes from a lake – it usually has pretty good water levels throughout the season. Even it is super low, so the Åmot section can stay super siiaacck.
The Sjoa is characterised by big fluffy waves, powerful hydraulics, and is rather continuous, meaning that the water is always flowing continuously downstream – kinda opposite of pool-drop.
Sjoa riverbed is generally pretty deep, so you don't have to worry about hitting your head on rocks unless it's really low. Put in and take-outs can all be accessed by road and the river runs next to the road, apart from on the Asangjuvet section and Ridderspranget – then you don't want to have to walk out!
These sections range in difficulty from class 2 to 4+, although at super high-flows I would say that Asangjuvet and Åmot could be class 5 – then swimming really isn't an option.
The Sjoa Normal is very safe and you could literally swim the whole stretch. Get up to Sjoa and enjoy the white-water delights! Oh and lastly, you have the Ridderspranget section above Asang.
It is a class 4-5 section. Above Ridderspranget there is a sweet slide/drop called Stuttgangfossen – it's a park and huck!
Finna River (Vågåmo)
The Finna would have to be one of my all-time favourites, even though one of the coolest rapids disappeared a few years ago in a flood. Flow wise this river runs almost all season, although it will get too low and too high for periods.
This river can be paddled pretty low, but yea, it can get a bit bumpy! Put in and take out are easily accessible by car and no long hikes are required to get on the river.
Finna is characterised by beautiful deep gorges and lush vegetation. I remember one trip where the sunlight was penetrating through the gorge; the light took on a gentle golden glow and the water was crystal clear.
It is a good idea to paddle this river with someone that has done it before, otherwise, take your time and make sure you are at a class 4 paddling level! The moves and boofs on this river are seriously unreal – pure bliss yo!
Note: the first "portage" is actually quite paddle-friendly, just go left and throw in a nice boof to lift your nose over the buffer, then you will skim over no sweat.
Watch out! It's worst trying to go for the eddy on river left, missing it, and then going down backwards and out of control – I've seen this happen a few times and glad it was not me! Hehe.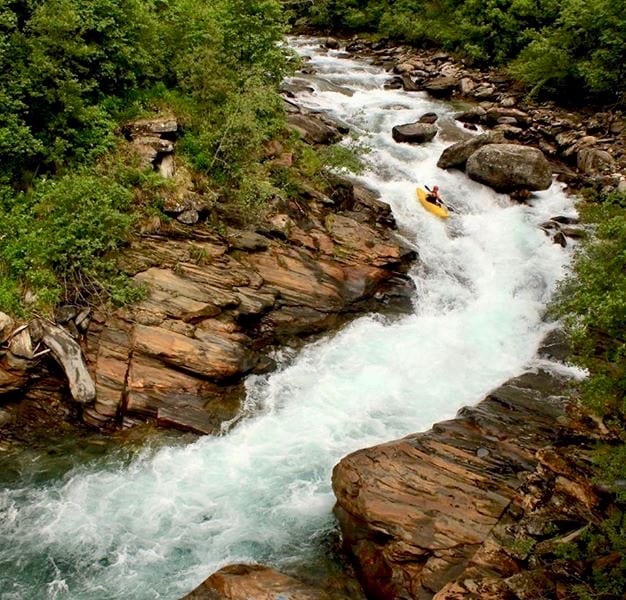 Urula River (Nes i Ådal)
This is for those kayakers wanting a river close-ish to Oslo (approx. 2hrs). The Urula River seriously rocks my socks off. Super accessible, very clean river-features and you can just lap it all day long.
Bear in mind that there are some chunkier rapids and a portage – or I should say that it is usually portaged. This river can be paddled pretty damn high and pretty darn low. Lowest I would personally paddle it would be 14m3 and highest around 30m3.
It is a great first introduction to class 4 white-water. If you need a guide, then hit me up; I've paddled this great section many times! 😉 If you are paddling this river early in the season, just make sure you check that all the ice has melted off the sides of the riverbanks.
The last thing you want is to get stuck under an ice shelf! Good thing is, is that the river runs close beside the road, so you can scout on your drive up.
The Ula River (Rondane National Park)
Ula is probably one of the best whitewater kayaking rivers in Norway! This river runs through the Rondane National Park and cascades all the way down until it finally flows into the Lagan River near the town of Otta (voted the ugliest town in Norway).
Rapids are mostly made up of steep but clean slides, which includes a short grade 3+ gorge section, which can be quite technical and continuous – don't go sideways.
Unique geology up here is amazing! Accessible by road, although just watch out that you don't drive through private gates; we did this last time and got locked in. The terrain is spectacular: tundra-like mossy fields and huge lumpy mountains.
Make sure you have a solid team and good flows if you plan on paddling the big ones! People have broken their backs (and dreams) on this river.
In my opinion, you want to have a tethered swimmer set-up on the last drops. There is an undercut, which can be protected, but if you run the falls right you won't go near it.
There is no flow gauge for the Ula, but what you can do is drive up past Otta towards Dombas and make sure you keep an eye out because you will soon pass over a bridge crossing the lower part of the Ula River.
If you look to the right you will see a very steep and gnarly looking waterfall. If you look to the right of the waterfall you will see water streaming down on the river left (so looking to the right from where you are).
Located there are 3 separate and well-defined streams pouring over the rocks, then the river will be at a runnable flow. It does save driving all the way up there for nothing. Get amongst it gals n guys. Smooch smooch. 😉
Conclusion
After reading this blog you should have a better understanding on my personal opinion about the top 4 best whitewater kayaking rivers in Norway. To conclude these were:
Sjoa river
Finna river
Urula river
The Ula river
Hopefully after reading this, you will have gained some valuable info that you can apply on your next whitewater kayaking river in Norway or perhaps around the world. I want to help keep sharing my passion for the ocean and influence others to try. Thank you again.
Check out this highlight video of me paddling in both New Zealand and Norway
River Kayaking in Norway – Useful Resources
River App for your phone: RiverApp
Flow website: nokken.net
Norwegian River Guide: https://www.amazon.co.uk/Norway-White-Water-Guide-Klatt/dp/3980931544
Thanks for reading. Please just get in touch if you have any questions.