Packrafting på Akerselva i Oslo
If you're looking for an exciting and unique way to experience Oslo's Akerselva River, packrafting might be just the activity for you! Packrafting is a form of paddling that involves using a small, lightweight inflatable raft that can be carried in a backpack. It's a great way to explore the river and take in the sights and sounds of the city from a different perspective. If you want to learn how to packraft in Norway or join a packrafting tour (packraft turer), Mad Goats offers the beginner våttkort courses introkurs and grunnkurs in Sjoa and offers tours for beginners and intermediate padders. If you want to join our famous Akerselva kajakktur you are welcome to bring your own packraft on the trip!
Check out this cool video of Mad Goats trying out their new packraft on Akerselva
Packrafttur Ned Akerselva – what you need to know!
To get started with packrafting on the Akerselva (packrafting på Akerselva), you'll want to make sure you have all the necessary gear. You'll need a packraft (pakkeflåte), a paddle (padle), a personal flotation device (redningsvest), and appropriate clothing for the weather conditions. It's also important to be familiar with basic paddling techniques and safety procedures before hitting the water. We also recommend that people join on a Rescue 3 Norge WRT-REC or WRT-PRO course if they want to stay safe on the water.
NOTE: This blog is about packrafting on the lower section of Akerselva below the last waterfall beside Nedre Foss Gård, which is by Mathallen in Vulkan. If you want to paddle the upper section we recommend you are either an experienced paddler or contact "Fjellboms" or "Bergans Adventures" who run tours on the upper part of Akerselva. 
What to expect while packrafting on Akerselva
One of the great things about packrafting on the Akerselva is the variety of experiences you can have. You can choose to paddle through the calm stretches of the river, taking in the scenery and wildlife, or challenge yourself with more technical sections of the river that require skill and precision. Like we previously stated, if you want to paddle the upper section of Akerselva we recommend you have prior paddling experience. However even on the lower section of Akerselva you need to be careful about obstructions in the river and high flow. You can check the flow here on this great app. We also advise you to scout the river before you go packrafting so you know what you are getting into.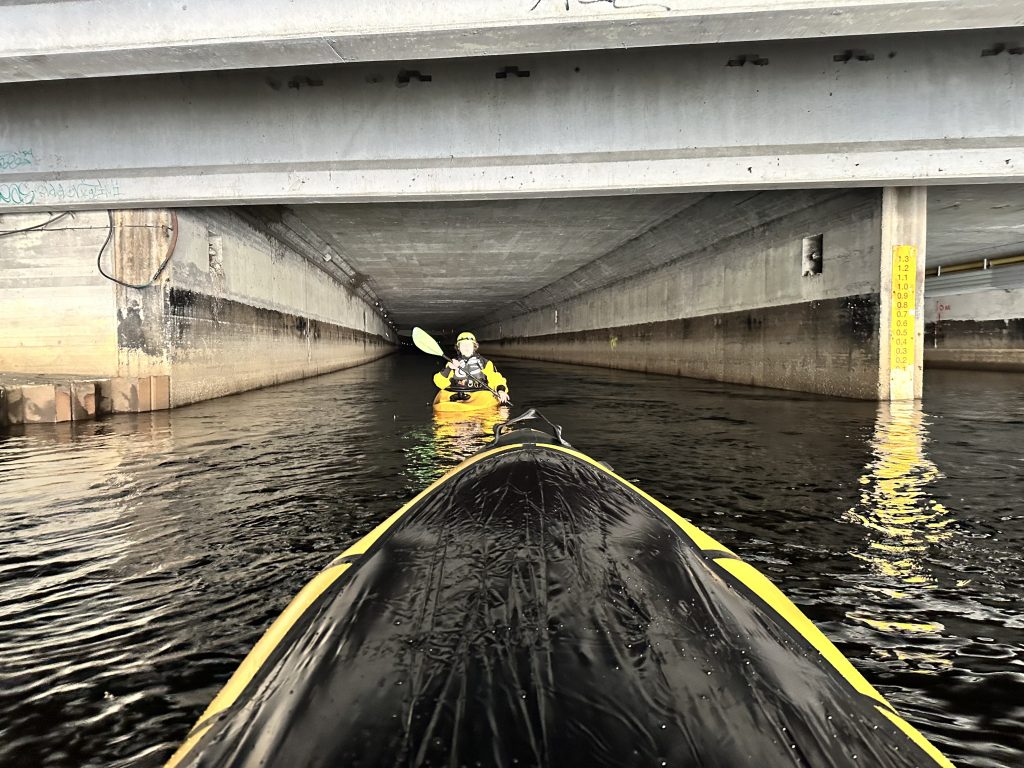 When planning your packrafting trip on the Akerselva, be sure to check the weather and water conditions, as well as any regulations or restrictions in the area. You can find more information about packrafting and other paddling activities in Oslo and Norway (Norge) by searching for keywords like "packrafting i Oslo", "padling i Oslo", "packraft turer ned Akerselva", and "kajakkturer i Oslo" on Google.
Whether you're a seasoned paddler or just looking for a new adventure, packrafting on the Akerselva is an experience you won't want to miss. So pack your gear, hit the water, and enjoy all that Oslo's beautiful river has to offer!
OPPLEV OSLO FRA VANNET: EN UNIK PADLETUR LANGS AKERSELVA
Utforsk Oslo på en annerledes måte med en guidet padletur langs Akerselva. Opplev blandingen av historisk og moderne arkitektur, gatekunst og de pulserende bydelene som Grünerløkka og Bjørvika.
Turen starter fra Vulkan ved Nedre Foss Gård, hvor vår erfarne guides venter med våre packraft båter. Vi gir deg en kort introduksjon, sørger for at du er komfortabel og trygg før eventyret begynner.
Mens vi glir stille nedover Akerselva, kan du beundre Oslo fra et nytt perspektiv. Vi passerer byens landemerker som Den Norske Operaen, og snart ser vi det ikoniske Munch Museet ved Bjørvika. Høydepunktet? Å padle under selve byen, gjennom en opplyst tunnel som fører oss direkte til Bispevika, også kjent som "Vannkunsten".
Vår padletur er designet for alle aldre og ferdighetsnivåer. Det er en avslappende, halvannen til to timers tur, der du kan sette ditt eget tempo og ta deg tid til å absorbere byens skjønnhet. Med packraftens stabilitet og våre guider ekspertise, er din sikkerhet garantert.
Bli med oss på denne unike opplevelsen og se Oslo fra en ny vinkel.
Se mer om opplevelsen og bestill Packrafting ned Akerselva her!
"Catch you on the water!" Maaeeeeeeeeeeehhhhh!