Estimated reading time: 11 minutes
Sjoa has held a special place in my heart for over a decade. It was the first place I got a job in Norway, at the rafting centre Gorafting Sjoa, which is based in Nedre Heidal. I worked 3 consecutive summers in the Heidal Valley as a raft guide, safety kayaker and photo kayaker, before going my own way and working as a freelance raft guide in places like Dagali (close to the town Geilo) on the Numedalslågen River, in Valldal next to the famous Geirangerfjord on the Valldøla River, & at Jølster Rafting on the Jølstra River. 
Before I get too carried away on a tangent, I will get right back and tell you why Sjoa is such a magical place. The Sjoa River runs through the beautiful Heidal Valley, with rapids ranging from class 1 to class 5 (or grade 1 to grade 5 – whatever you like!), before ending its journey by flowing into the Lågen River, which runs through the Gudbrandsdalen Valley and into the Mjøsa Lake beside the city of Lillehammer. The surrounding hills are covered in lush green forests (mostly pine but also birch and more, both deciduous and evergreen, so in Autumn the hills burst into flames displaying the colours of orange, gold and red) and the mountains, with their characteristic rounded tops, are covered in light green tundra-like moss, with ancient mounds of stone and rocky escarpments shooting towards the sky – they don't call this the land of giants for no reason (Jotunheimen). You really feel like you are in a land of fantasy, like The Lord of the Rings, or other fictional tales. 
I digress once again, apologies my dear reader, back to whitewater kayaking on the Sjoa River! In this blog, I will hopefully explain to you how to get to Heidal so you can enjoy the Sjoa River. The other amazing rivers in the area, like the Otta River and the Lågen. Things to do while you are here, while you are not kayaking, rafting or stand up paddling. Where you can lay your weary head, aka where you can sleep for the night. Some of my top tricks and tips while you are visiting Sjoa, and lastly, how to get to the level of skill necessary to maximise your fun on the river, while staying safe, so that you can enjoy at least the top 3 rivers in the area: the Sjoa, the Lågen, and the Otta Rivers. 
How to get to Sjoa (The Heidal Valley) 
The best way to get to Sjoa from Oslo or Trondheim, is in my opinion to catch the train to Otta or Vinstra, if you are coming to visit us at Mad Goat Sjoa (now based at the Kajakksenter in Nedre Heidal) and we can come and pick you up. If you are coming for your own kayaking adventure, with your own equipment, or you just have a car and want to drive, then from Oslo it is straight north on the E6, or straight south on the E6 from Trondheim. I believe there also buses that pass through Otta and Vinstra. Book your train here or book your bus here. Oh, and you could try hitchhiking, but Norwegians are not renowned for their trust in strangers, hehe. 
Places to visit and things to do while you are in Heidal
Go hiking up to the mountain peaks surrounding the Heidal Valley. Download the Norgeskart App, or you can just use Google maps. Here are some of the peaks I explored this year: peak 1, peak 2, peak 3. 
Go mountain biking up the mountain peaks surrounding the Heidal Valley. Note that some of the trails on Norgeskart are really not very well looked after, so it can be an idea to stay on the roads that obviously made for vehicles – but you just go explore and do your thing!
Take a sauna at our whitewater centre (Mad Goats Sjoa) – a perfect complement after kayaking, rafting, or hiking in the area. 
Get a scrumptious waffle with the famous brown cheese from the Heidal Ysteri in the town of Heidal. 
Check out the kayaking equipment on display at the kayak store Strie Strømmer in the town of Heidal. 
Go to the Peer Gynt theatre play in the town of Vinstra – apparently it is pretty good! 
Go whitewater rafting at one of the many raft companies in the area: Heidal Rafting, Go Rafting, Sjoa Rafting – you choose! 
Horse Riding in Sjoa in the Heidal Valley can be found here.
 

 

View this post on Instagram

 
Camping and accommodation (free & otherwise)
Free camping spots: spot 1, spot 2, spot 3, spot 4, spot 5. If you are going to free camp then make sure not to leave your poop and rubbish strewn around the place. This bad behaviour ruins it for everyone as local authorities have no choice but to ban camping at these spots. So, heed my words, and do not use synthetic wipes or soap that is bad for the environment and make sure to dig your poo down (so yes, you need to use your hands to dig a hole, or have a shovel), and do not leave rubbish lying around – take it with you! Takk.
If you want to have a roof over your head or a designated place to pitch your tent with cooking and toilet facilities then you can camp, hammock or cabin with us at Mad Goats Sjoa (based at the Kajakksenter in Nedre Heidal).
Stay at one of the aforementioned rafting companies, whom all offer accommodation.
Alternatively at the Heidal Gjestgiveri, Weistad Camping or Sjoa Camping. 
Rivers (sections) to paddle for beginner to advanced kayakers
NOTE: please go ahead and download the River App for flows, put-ins, take outs, and more. 
BONUS: Here is the link to my top 4 rivers in Norway and why! 
Step by step process to become a grade 3 kayaker (starting from Introkurs Elv, Grunnkurs Elv, learning to roll a kayak, etc)
Guys, we have put a lot of time, passion and thought into what it really takes to become a grade 3 kayaker. We truly believe that we can give you the solid foundational skills that are required for you to maximise your safety and fun on the river if you follow these steps. Of course, there will have to be a lot of practising in your own time, perseverance and, diligence on your part, but that goes for achieving anything worthwhile in this life, eh?! Without a doubt, if you can get to grade 3 level of kayaking, trust us, you will never stop paddling! 
Please get in touch for all kayaking and paddleboard related inquiries in Norway. We offer tours, courses, and rentals in three paddling hotspots (Sjoa, Oslo and Tønsberg), both on the river and on the sea. Whether it is a gentle urban kayaking tour you are looking for, or to become a full-blown ninja-goat paddler, we can help you. 
On a philosophical note
People live busy modern lifestyles these days; trying to rush and cram everything into the shortest period of time possible. Trust me, I am definitely guilty of this and, I encourage it to some extent, as I am inherently a futurist and want to see humanity progress, both technologically, socially, spiritually and scientifically, as fast as possible. But as the age-old saying goes "slow is fast". The perfect trip is not necessarily packing everything into a small window. We want you to feel good so that you can be your best self. Challenge yourself but allow time for rest. If you feel good, you will do good for the world, for yourself and for the people around you. Kindness is the key – lets gooooooattt! You may wonder why this is relevant? Well, learning to river kayak is god damn awesome, but it takes a lot of energy. You may have a busy life, job, kids, whatever, so if you come to visit us, allow time to travel, rest and eat good food. Can't wait to catch you on the water!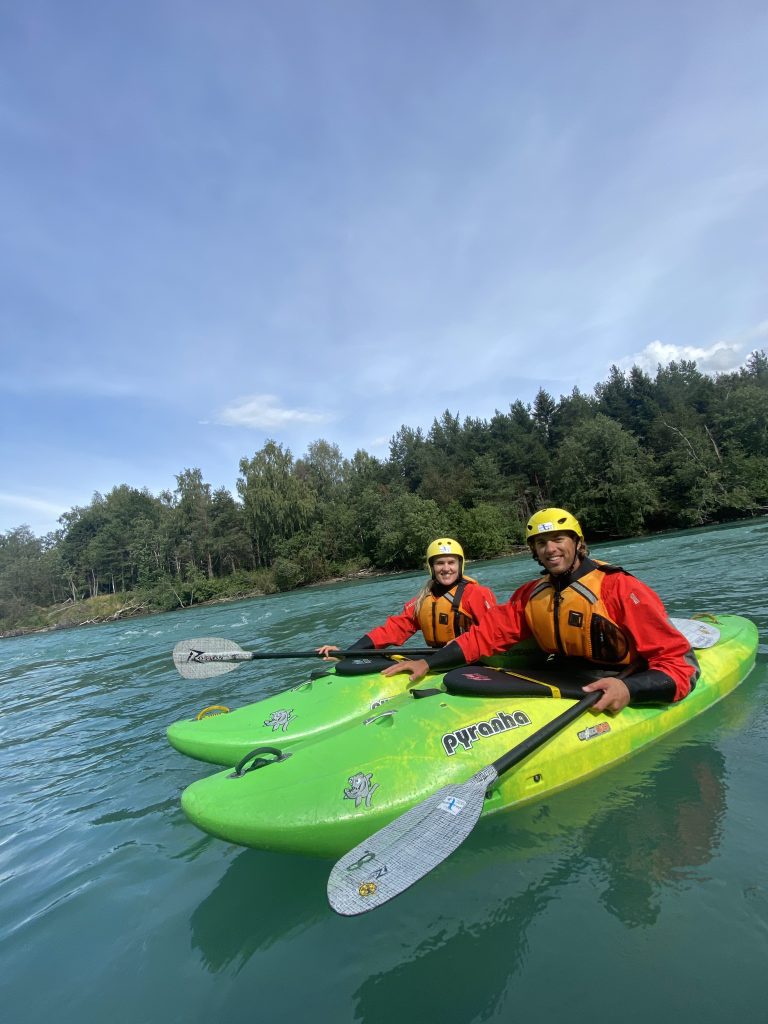 Related links
 

 

View this post on Instagram

 
PS, how many våttkorts could a våttkort chuck if a våttkort could chuck våttkorts?