Did you know that goats are tribe animals? No, literally, a group of goats is called "a tribe" – and that's great, because we are all stronger together and it's sure as hell more fun! #goattribe
Mad Goat's mission is to provide joy on the water, whether that's jumping into the Oslo Fjord after a hot sauna, or exploring the Oslo islands and city waterfront by kayak or stand up paddle board – it achieves the same result!
We live and breathe our profession and want to share our passion and joy with you! We guarantee many smiles, and lots of laughs while pushing you to jump out of your comfort zone (in a safe environment) and embrace the goat life.
We are perhaps best known for our guided paddle tour down the Akerselva river, right through the heart of Oslo, but we also run courses for beginners right through to advanced. Few things match the feeling of freedom you have on the water and we want you to be able to experience this for yourself!
All our instructors are certified by the Norwegian Paddle Association and have many years of experience teaching paddling and other outdoor activities. We pride ourselves on a high level of competence in paddle sports, outdoor leadership and safety – as well as making sure you have an awesome time with us out on the water! If you are interested in joining our team please check out our jobs page.
We are proud partners of Akerselva Padleklubb and Fjord CleanUP, two organisations very dear to our hearts and aligned with our values.
Mad Goats History – It's all in the name!
What do mad goats have to do with paddling, you wonder? The idea of Mad Goats came about when Tomas was walking up a river (in his home country, New Zealand) with a kayak on his back. When he heard wild goats bleating up on a mountainside, he started to bleat back (and has never stopped). Finally, Tomas was so good at bleating, that the goats answered him! Goats have the qualities we believe are important in the outdoors and for life in general. They are smart, fun, adaptable and tough. #GOATLIFE is about being authentic, staying playful, and living life to the fullest!
"Kayaking allows me to satisfy my curiosity for the natural world, while experiencing epic landscapes and exercising at the same time. While you breathe in a lungful of fresh sea air, your kayak cuts smoothly through the waves, and you lose yourself in a perfect moment – let's go kayaking!

Tomas Hansson

Founder of Mad Goats
Fjord CleanUP – Oslo's largest & most regular voluntary clean-up!
For many years, Mad Goats has been picking plastic and trash out of the waterways around Oslo, particularly in Akerselva and Oslofjord. In fact this is how the Fjord CleanUP was born.
We still team up every week with Oslo Fjord Sauna and Fjord CleanUP for fjord clean ups. We take out a group on kayaks and stand up paddle-boards to pick up plastic and other rubbish from the water and waterside. The amazing thing about this concept is that it is social, useful and fun all in one!
This is open to everyone to join… and you get a free sauna and soup afterwards to warm up! This has become Inner Oslofjord's largest and most consistent voluntary cleaning effort, in fact it has become very popular so you need to become a member to join! Your membership will give you a free burger from Døgnvill Burger every time you join a clean up, also a free floating sauna session at Fjord CleanUPs Oslo Fjord Sauna and free use of Fjord CleanUPs free diving equipment and participation in Fjord CleanUPs free diving lessons for members. So you see, the investment in a Fjord CleanUP membership will quickly pay off – that's what we call a great return on investment!
#fjordcleanup
Thug the whippet
"The King and Master of all humans" - also a companion dog who will be there to support you in your hour of need!
Thug the Whippet is a true Mad Goat and is much beloved by the Mad Goats team. He is a kind-hearted dog that does not necessarily like the wet and cold, but still wants to join on every adventure, regardless. You will find him sniffing butts and licking the pavement around the Oslo waterfront and frolicking in the woods up at Mad Goats Sjoa
Kristian Lund
"Super Star Akersleva Kayak Tour Guide" - also a very talented musician and producer, and most importantly, a Mad Goat!
Kristian is an up-and-coming music superstar, so make sure to follow him on Instagram - link below. He is also an absolute goat and never manages to disappoint on our infamous Akerselva Kayak Tour. The synergy between Kevin and Kristians pre-trip briefing is a sight to behold, and will having you cracking up in no time - you should really have to pay extra for this! Kristian is like Tomas in that he is half Scandinavian but grew up in New Zealand, albeit the North Island…
Tomas Lars Hansson
"Goat Chieftain and Founder" - also a driver, kayak guide & instructor, business strategy and development, Thugs father, and most importantly, a Mad Goat!
Tomas is the founder and CEO of Mad Goats. He has always been a fun-loving and cheeky goat that has never walked the beaten track! Tomas is passionate about health and longevity, growth mindset and always striving to make a better future for himself and the people around him. Get in touch with Tomas if you think you have business development opportunities for Mad Goats - his email in tomas@madgoats.no and phone +47 98677019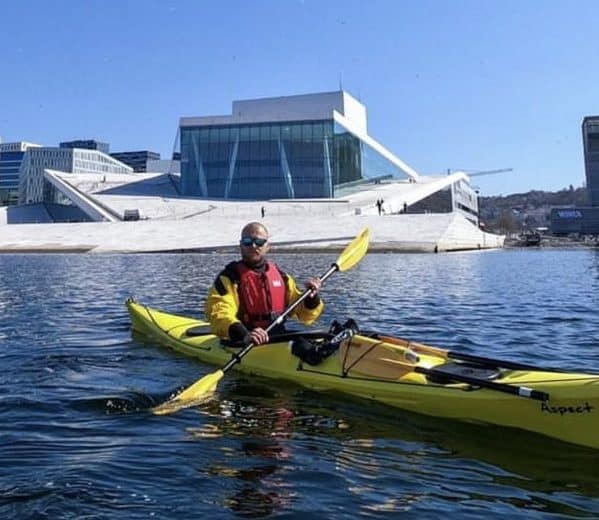 Filip Medic
"Kayak Instructor and Guide" - also a driver, football enthusiast, sauna master, and most importantly, a Mad Goat!
Filip Medic first fell in love with kayaking in his home country, Croatia - and we can see why as it is beautiful there! Since then he has come a long way, completing intensive sea kayaking training in Lofoten and putting the work in to becoming a solid grade 3 whitewater kayaker. Filip is kindhearted, friendly and competent outdoor professional…who brings in a lot of 5-star reviews for the company, heh.