Packrafting i Norge! -The Ultimate Guide to packrafting in Norway
Norway is a land of mountains, glaciers, and pristine rivers, making it an ideal destination for pack rafting enthusiasts. If you're looking for a thrilling and unforgettable outdoor adventure, packrafting in Norway (packrafting i Norge) is an experience you won't want to miss. In this guide, we'll explore the best pack rafting destinations in Norway, where to learn how to pack raft, and where to buy a pack raft. If you are here to find out how to book a packrafting våttkort course (packrafting våttkortkurs) or join us on a guided packraft tour (guidet packraft turer), then we recommend you go straight to Mad Goats homepage – otherwise read on to learn more about packrafting in Norway!
Best Pack Rafting Destinations in Norway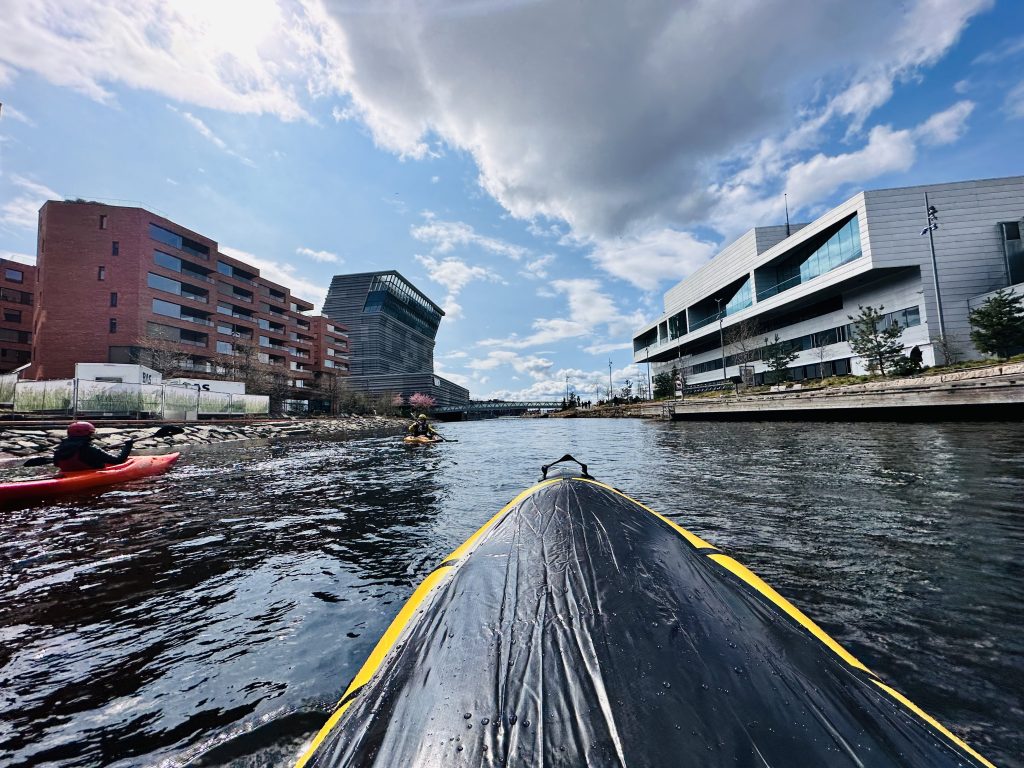 Packrafting on the Sjoa River
Located in central Norway in the Heidal Valley, the Sjoa River is a popular destination for packrafting enthusiasts. With its exciting white water, the river offers a challenging and exhilarating experience for more experienced packrafters. However, beginners can also enjoy the river's calmer sections, meaning there is something for everyones skill level. If you are a complete beginner, Mad Goats offers the 6hr våttkort introkurs and the two-day våttkort grunnkurs, also guided tours for beginner and intermediate paddlers.
Packrafting in Voss, Norway
Located in western Norway, Voss is a beautiful destination for packrafting. With its crystal-clear water and stunning scenery, the rivers in the area are known as some of the worlds most extreme, hence why the Voss is home of the famous Voss Extreme Week (Ekstremsportveko). However, it also has some calmer sections after the steeper sections, once the rivers flatten out and flow into the lowlands. If you want to learn more about packrafting in Voss, then go check out Voss Active or Kayak Voss and they will help you out!
Packrafting on the Akerselva River in Oslo
The Akerselva River is a famous landmark in Oslo, and if you are visiting Oslo then you should check it out! Mad Goats runs a popular kayak tour down the lower part of the Akerselva River, which flows through central Oslo and out into the Oslofjord. If you want to join our kayak tour and bring your own packraft, then you are very welcome! Just sign up here and we will catch you on the water! Our friends at Bergans Adventures and Fjellboms also run paddling trips down the Akersleva River in packrafts but they do the upper section of the river which is a bit more exciting!
If you are interested in packrafting down Akersleva, then you might want to check out this cool video!
How to learn how to packraft in Norway?!
If you're new to pack rafting, it's important to learn the proper techniques and safety measures before hitting the water. Here are some places in Norway where you can learn how to pack raft.
Mad Goats, the one and only goaty paddling company in Norway offers the packraft beginner courses  (nybegynnerkurs i elvepadling) and packrafting tours (packraft turer) up in Sjoa. We have a sauna, accommodation and awesome instructors and guides that will show you an amazing time on the river! Maaehh!
Norges Padleforbund: The Norwegian Canoe Association offers courses in packrafting, as well as other paddle sports. Their courses are designed for all skill levels, from beginners to experienced pack rafters. If you are interested in becoming a kayak or packraft instructor or to learn more about the våttkort certification system then we recommend you check them out!
Heidi Grimnes and Fredrik Feyling run the packrafting Aktivitetsleder kurs by the Norges Padleforbund. Get in touch with them if you want to become a packrafting instructor in Norway!
Where to Buy a Pack Raft
If you're ready to invest in your own pack raft, here are some places in Norway where you can buy one
West Systems Norge
West Systems Norge is a kayak and packraft shop in Oslo. They have a huge range of kayaks and packrafts and usually have really good campaign deals and discounts. If you do not live in Oslo, then West Systems can send to you, as they are also an online store. Mad Goats have been working with West Systems Norge for many years and appreciate the friendly and enthusiastic customers service each time we visit. So if you need to buy a packraft or kayak in Oslo or get advice about paddling equipment then take a trip to West Systems! – https://www.westsystem.no/m/279/hovedsiden
Finn!
You don't need to buy a brand new packraft if you don't have the money, not 100% sure you want to commit or are actually just trying to be sustainable – which is goddamn admirable! Finn.no is the place all rich Norwegian use to get rid of their new equipment that they realised (after a short while) that they were not really interested in using anymore…onto the next hobby! Lol, just kidding. Finn.no is also a great place to get free furniture as sometimes it's more expensive taking IKEA to the dump rather than having someone else pick it up for free…lol! Check out Finn.no here.
Strie Strommer in Sjoa
Strie Strommer is the local kayaking and rafting store in Sjoa. It is run by a nice group of Heidal locals who grew up kayaking in the area. The shop is small which I like as they concentrate on just having a few awesome brands, rather than 1000s to choose from. Check out their webpage here.
Packraft Europe
Packraft Europe is an online retailer that sells pack rafts, paddles, and other pack rafting gear. They offer free shipping to Norway and other European countries.
Pack rafting in Norway is a thrilling and unforgettable outdoor adventure. With its stunning scenery, challenging rapids, and peaceful stretches of water, Norway has something to offer pack rafters of all skill levels. Whether you're a beginner or an experienced rafter, Norway is a destination you won't want to miss. Use this guide to help you plan your next pack rafting adventure in Norway, and be sure to stay safe and have fun!
"Catch you on the water!!" Maaaaaeeeeeeh!!