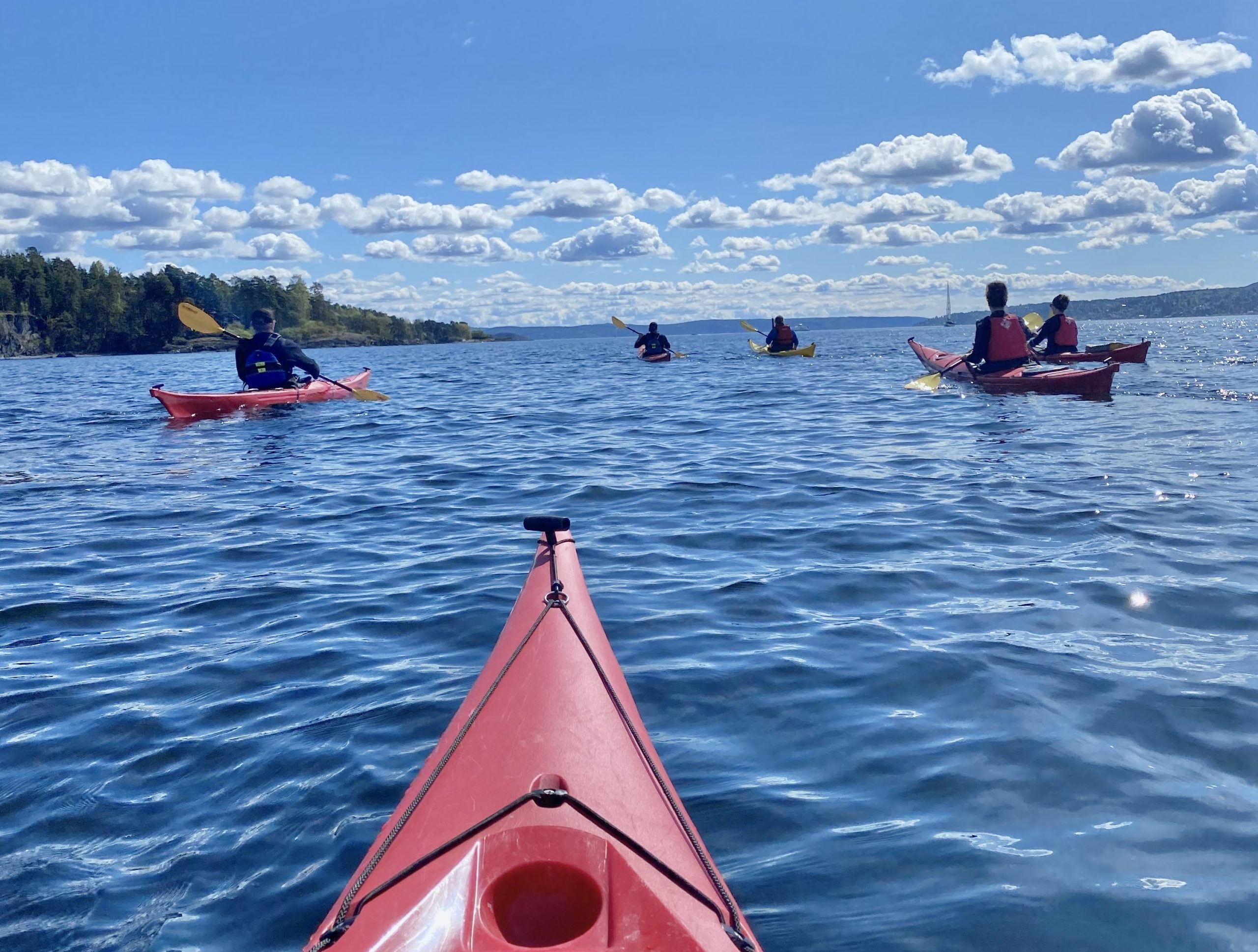 The Bygdøy Peninsula located to the west of Oslo central city is a kayaking gem. It is characterised by beautiful green forest, sea cliffs and the sandy Huk Strand (Huk Beach) – and also fancy houses, but they are definitely not the main attraction!  
My favourite way to explore Bygdøy is by starting out at Sollerudstranda, which is a lovely beach located in Lysaker, just to the west of Bygdøy. Sollerudstranda is a perfect place to launch a kayak, and it relatively sheltered if you want to play around practising your skills before paddling out towards Bygdøy. Also, there is an amazing floating sauna run by Fjordtøkt, so if you feel the need to warm up after your trip, we recommend visiting their sauna. Oslo has become renowned for floating saunas in the last 5 or so years, and it has become one of the main tourist attractions in the city.  
Back to kayaking. From Sollerudstranda it is only a short paddle to Huk Strand, approximately 30 – 45 minutes depending on the weather and your paddle speed. Once you arrive, it is important to choose the right beach for your tastes…as half of Huk Stranda is a nude beach! Yes, you have been warned. In our goaty opinion, there is of course nothing wrong with bathing naked and we fully support it but it is also nice to know in advance just to avoid the surprise. The naked part of Huk Beach is here. The rest of the beach and around the peninsula to the east is for non-naked use – now you know!  
Once you arrive, you can either lay back and enjoy the urban nature, go for a swim or if you have not packed your own lunch, then their is a cafe only 100m away from the beach, and even toilets and showers – pretty fancy huh!? Relax, enjoy and when you are ready you can make your way back. If you are in a hurry, you can do the trip in about 2 hours but we recommend 3 hours as a good amount of time for this trip. If you want to prolong your kayak trip, we recommend continuing to paddle around the Bygdøy Peninsula and towards Oslo City. It is only a short paddle until you will find yourself in Tjuvholmen / Aker Brygge. Here you can jump out for an ice cream or even have a floating sauna sessions at Mad Goats Saunas.  
If you would like to try this trip why not join our Guided Kayak Tour to Huk strand. Thanks to some fantastic drysuits we are able to run this tour all year round.
In the summer we also run kayak tours around the Oslo Fjord from 2 – 5 hours, exploring the city waterfront, the famous islands of Hovedøya and Gressholmen. 
The great thing about Oslo is its accessibility to nature. It really does not have to be a huge mission to get out and about on an adventure. I believe a lot of foreigners end up settling here for this reason. Just remember that if you want to rent a kayak in Oslo, you will need your våttkort kayaking certificate. You can get this by completing a 3 hour våttkort introkurs with us at Mad Goats. If you want to spend a longer course, then you can go straight to our 2 day våttkort Grunnkurs – both are for absolute beginners.
If you are interested in learning how to kayak in Oslo or want to watch some videos of our kayaking tours on Oslo Fjord, then check out our YouTube channel:  
https://www.youtube.com/channel/UCVBbz8gdwrnujF3wOsFHgFw/featured 
Whatever you decide, have fun and stay safe.
Thanks for reading,  
The Mad Goats team, maaaaeeeh!!